Hi my Babies! It's November and these Oatmeal Pumpkin Pie Bars are the perfect treat… or even breakfast to-go! They're delicious and packed with the flavors of fall. Yum! xox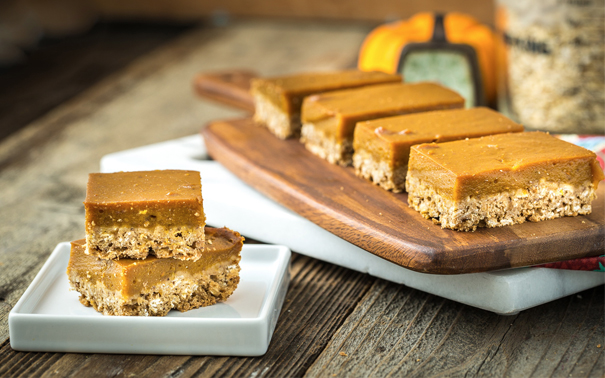 Ingredients:
For the Oatmeal Base
Dry Ingredients
2 cups rolled oats
3/4 cup spelt flour
3/4 cup oat flour
1 teaspoon baking powder
1/2 teaspoon ground cinnamon
1/4 teaspoon ground nutmeg
1/2 teaspoon salt
Wet Ingredients
1/2 cup almond milk
1 tablespoon apple cider vinegar
1/2 cup unsweetened applesauce
1/4 cup melted coconut oil
1/2 cup coconut sugar
2 tablespoons maple syrup
1 tablespoon flaxmeal
1 teaspoon vanilla extract
For the Pumpkin Pie Layer
2 cans of pumpkin puree (or 3 cups of pumpkin puree)
1/3 cup maple syrup
1/3 cup coconut sugar (or brown sugar)
1/4 cup almond milk
1/4 cup arrowroot powder (or cornstarch)
3 teaspoons ground cinnamon
1 teaspoon ground ginger
1 teaspoon ground cloves
1/2 teaspoon ground nutmeg
1 teaspoon vanilla
1/2 teaspoon lemon zest (optional)
Directions:
Preheat oven to 350. Lightly grease a 9×13 baking dish.
In a large bowl, mix together the dry ingredients for the oatmeal base. In a medium bowl, mix together the wet ingredients. Add the wet ingredients to the dry and mix to combine. Spread the mixture out in the bottom of the prepared baking dish.
In a large bowl, thoroughly whisk together the milk and arrowroot powder. Add the rest of the pumpkin pie layer ingredients and mix until fully combined. Spread the layer out on top of the oatmeal base.
Bake in the preheated oven for 35-40 minutes, until the edges have turned golden brown. It's okay if the center is still soft or seems undercooked- it will firm up in the fridge. Let cool on the counter before refrigerating for at least 2 hours. It's even better the next day. Slice, serve and enjoy!